---
---
Some thoughts on the new Sony F5
Today (28 Nov 2012) CVP announced the price for the Sony F5 and F55 which will be on sale in January next year.  Although, there is no guarantee that the price won't change before then, it is a pretty reasonable figure (personally, under what I was expecting).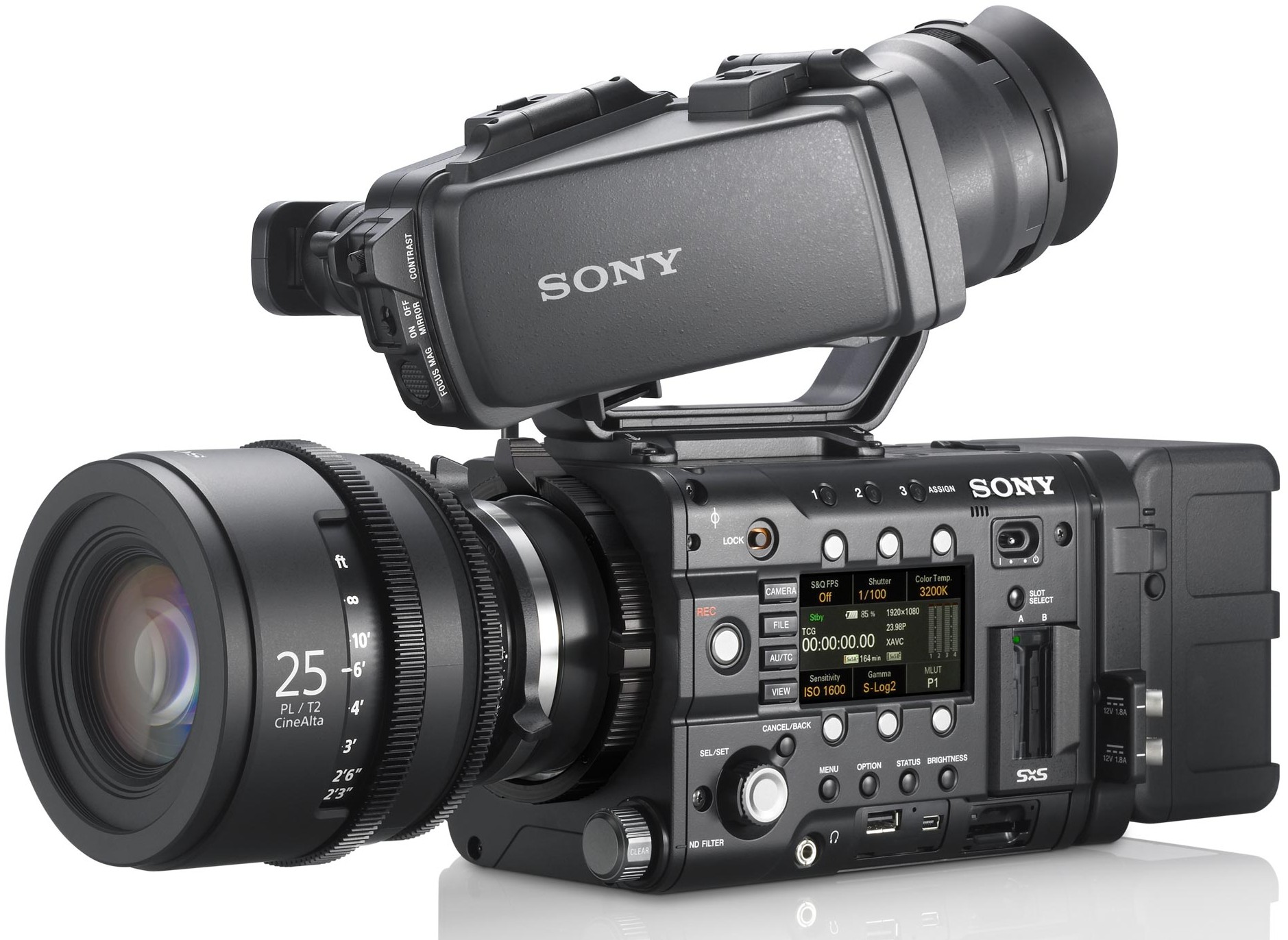 For the past few years Sony seemed to have been relatively quiet, whilst RED and Canon have been busy bringing cameras that have had huge appeal and must be taking a very significant chunk out of Sony's market.  Sony have now brought out a camera that, on paper, looks amazing and has aimed the price right where it will hurt Canon and RED the most.
The Sony F5 is advertised on CVP for £10,295 in the UK + VAT and $16,490 USD from B&H in the US.  The Canon C300 is currently selling for £9,150.    No doubt you would spend a touch more on Sony F5 accessories than with the Canon C300, first off you need a view finder (from CVPs site it isn't clear, but it doesn't look like the viewfinder is included) at around £2000, and the batteries will set you back £300 each.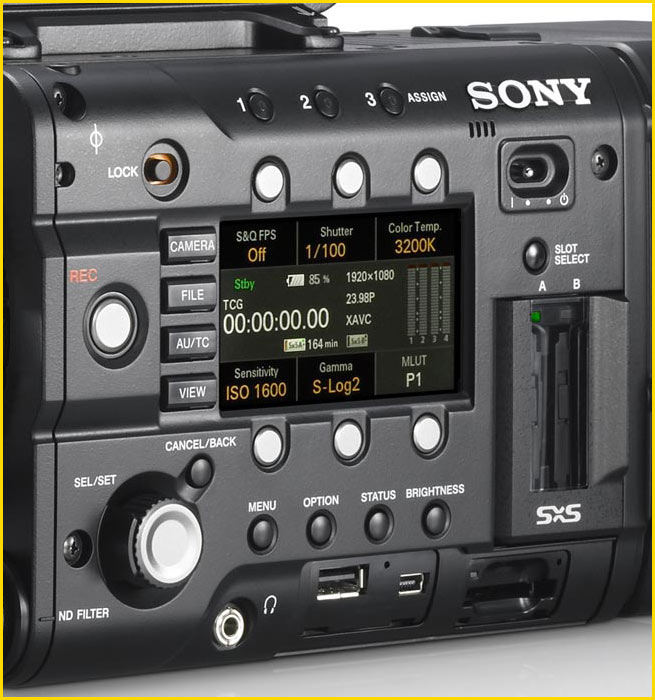 The side panel of the camera bears more than a passing resemblance to Arri's Alexa, which is no bad thing.  This is a panel that is well configured and looks easy to use.
Sony have been making cameras for professional, broadcast use for years, and it shows.  There is a lot about this camera that just makes sense ergonomically: XLR audio inputs are positioned at the base of the camera. (Unlike the C300/500 which attaches them to an LCD monitor, which firstly you may not wish to use, and secondly is higher than the lens, so you have to be careful not to let the cables get in your shot ).
Right next to the timecode is an "in/out" switch, what a great idea!  With the C300 that same function is located inside a menu, which isn't great when you are at the beginning of a shoot trying to hurriedly jam synch two cameras.
Having a proper viewfinder is really a massive selling point for me.  All other cameras in this mid range seem to have some sort of compromise: tiny tail eye pieces that block out the light but don't give you an image big enough to correctly focus and expose with, or flip out LCD screens that work great indoors, but are less good outside in bright sunshine.  Even work arounds for this such as external EVFs still  have issues, either they are not as easy to move around into different positions or the data from the camera, such zebras, digital zooms, peaking etc aren't transferred across.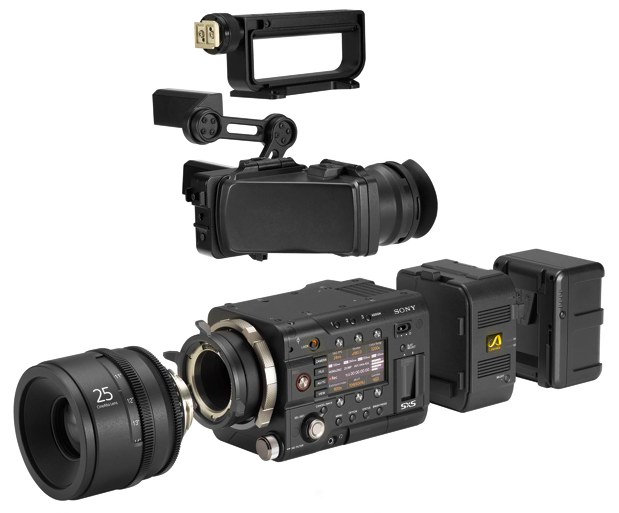 Another big selling point is the shape, this thing just looks like a decent block that is meant to sit on your shoulder.  The C300 is definitely too top heavy and can be a little bit awkward for handheld stuff.  
The filter wheel is right where it should be (unlike the C300 that has buttons that feel exactly like all the other buttons on the camera, so not something you would want to use without taking your eye away from the eyepiece).
As far as the technical specs on this camera go they look very interesting.  First off it is able to record in MPEG 422 8-bit or  XAVX 422-10bit.   The frame rate goes up to 120 fps without cropping.   There is also the external recorder that allows 4k recording .  This will cost an extra £3,599, but if you don't need 4k immediately it is a great way to future proof your camera.  Again this is something that looks ergonomically sensible: rather than an external recorder that has to be attached in some awkward, off-balanced manor, this thing just clicks seamlessly onto the back of the camera.
I bought a 2nd C300 only a 2 months ago, if the F5 was available then would I have bought it ?  To be honest, looking at the specs and the ergonomics, I would have to go with the F5.  That said, whether you have a C300 or a Sony F3 or whatever it, you will still be able to make your money back on it, and that is what matters.  Those cameras still both produce amazing images.

Broadcast calimed that CVP has ordered 100 of the F5 and Toptechs 40, so it is already looking like a popular option.
Update.  Since I wrote this back in November of last year, I have had a chance to briefly use the camera.  The first obvious thing about it is the heft and weight of it, if feels more solid than I expected and not at all pastic-y.  Overall the camera is fairly straight forward and simple to use, if you are used to using Sony cameras.  The menu is prety extensive and there are lots of options as you would expect.  If you have a job booked in with one of these cameras and you haven't used it, it is well work having a look at the online simulator.
Here is an online simulator if you want to look at the menu systems.
---
---